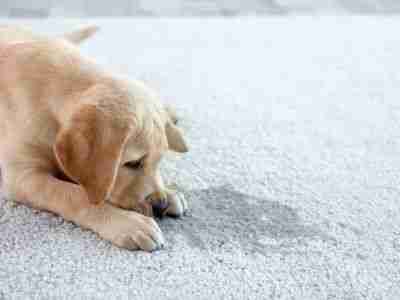 As much as you love and adore your pets, it can be frustrating when they soil your home's carpets. If you're looking for the best pet carpet cleaner tips for the next time it happens, look no further. Here's what you need to do.
Pick Up Solids Carefully
Lift away any solids with care. You don't want to do anything that's going to press them into the carpet fibers, even unintentionally. Use gloves to pick up solids if needed. 
Blot Liquids
To protect your carpet's fibers from damage, blot away liquids using absorbent paper towels or cleaning cloths. Repeat the process a few times to ensure you've soaked up as much of the moisture as possible. 
Use Water as an Initial Spot Clean
Carefully wet the area with water, as long as it's okay for your carpet fibers to be in contact with water. Blot the water away, and repeat until there's no sign of staining. For tough stains or highly delicate or valuable carpets, contact a professional carpet cleaner with experience in removing pet stains.
Need the Best Pet Carpet Cleaner Service for Pleasant Hill Homes?
At Legacy Carpet and Upholstery Cleaning, our teams are carefully trained to select only the best cleaning solution for each service, whether you need a rug shampooer or upholstery cleaner. Our technicians are also highly experienced in using our shampoo and brush technology to lift spot stains safely. We love our pets, too, so we're well-acquainted with most pet owners' worries about organic pet stain and odor and commercial cleaning methods so we're thrilled so many of our clients call us the best pet carpet cleaner. Whether you're concerned about an area rug, carpet, tile and grout or wood floors, contact us for prompt and compassionate help. From our spot guide to residential and commercial area rug, carpet and floor cleaning, you've got an ally in us. 
Remove Stains & Odors from Your Pleasant Hill Home with the Best Pet Carpet Cleaner Service Around
Serving Dublin, San Ramon, Pleasanton and the entire East Bay/Tri-Valley Region, including Alameda County, Livermore, Castro Valley, Danville, Lafayette, Walnut Creek, Pleasant Hill & Concord
---
Posted on November 19, 2023 | Published by Ignite Local | Related Local Business