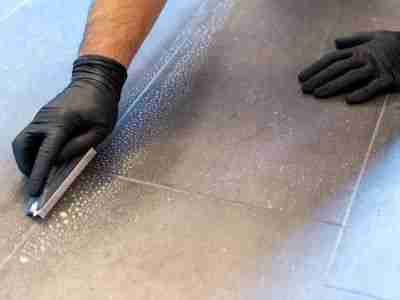 Grout cleaning is one of those household maintenance tasks that most people don't enjoy doing. And while it's tempting to put it off until it just needs to get done, and then use the strongest cleaning products you can find so the job goes faster, there's a better way to do it.
Clean Grout Regularly
When you make tackling the grout part of your regular cleaning routine, you prevent the mold and mildew from having a chance to build up. Depending on where your tile and grout are located and your cleaning standards, anywhere from every week to once a month is common. Some homeowners choose to bring in a professional cleaning contractor once or twice a year for a thorough cleaning and sanitizing.
Use a Scrubbing Brush
Whether your grout is made up of a sanded material or an epoxy, the stiff bristles of a scrubbing brush are a great way to clear away the mold, mildew and grime that settles in between the tiles. 
Avoid Harsh Cleaning Products
While many cleaning products promise to leave your grout sparkling, they may also lift away the grout itself. These products may contain acidic or abrasive ingredients that damage the material that's holding your tile together. For the deepest clean, call a professional who has the tools and gentle yet effective cleansers to get the job done well while preserving your grout.
Could You Use Help with Grout Cleaning in San Ramon?
At Legacy Carpet and Upholstery Cleaning, our teams are carefully trained to select only the best cleaning solution for each carpet cleaning service or upholstery cleaning, and how to use our shampoo and brush technology to lift spot stains safely. We love our pets, too, so we're well-acquainted with most pet owners' worries about organic pet stains and odor and commercial cleaning methods. Whether you're concerned about an area rug, carpet, tile and grout or wood floors, contact us for prompt and compassionate help. From our spot guide to full-service cleaning help with household tasks like grout cleaning, you've got an ally in us. 
Trusted Grout Cleaning for a Healthy Home in San Ramon
Serving Dublin, San Ramon, Pleasanton and the entire East Bay/Tri-Valley Region, including Alameda County, Livermore, Castro Valley, Danville, Lafayette, Walnut Creek, Pleasant Hill & Concord
---
Posted on January 23, 2023 | Published by Ignite Local | Related Local Business