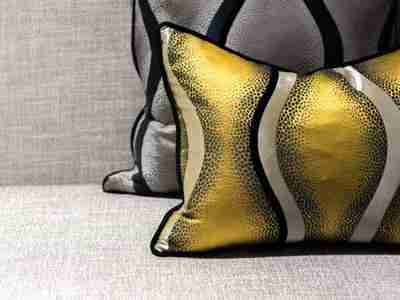 Spills on couches and sofas are pretty common occurrences, so it's important to know how to deal with them before the next one happens. Use these tips as couch cleaner first aid for your sofa and reduce the chances that you'll be stuck with a permanent stain on the fabric. 
Soak Up the Spill
Remove as much of the liquid as you can with an absorbent cloth. That will stop the spread of the stain and limit the damage. If you're in a commercial space, even paper towels will do. You just want to remove as much of the spill as possible while minimizing damage to the sofa.
Blot, Don't Rub the Stain
Rubbing at a stain that's left on your couch only pushes it deeper in the fibers of the upholstery. Many sofas come with manufacturer's care labels attached, so check to see what the cleaning instructions are to guide you in your next steps.
Avoid Harsh Chemical Cleaners
Store-bought upholstery cleaners aren't really one-size-fits-all solutions. They include strong chemicals that can damage synthetic or natural fibers, depending on how they're formulated. Skip them and the risk of leaving your sofa with a damaged or discolored spot instead of a stain. 
Would You Like the Help of a Knowledgeable Couch Cleaner for Danville?
If you're faced with a new stain on your sofa, we can help! At Legacy Carpet and Upholstery Cleaning, our teams are carefully trained to select only the best cleaning solution for each carpet cleaning service or upholstery cleaning, and how to use our shampoo and brush technology to lift spot stains safely. We love our pets, too, so we're well-acquainted with most pet owners' worries about organic pet stain and odor and commercial cleaning methods. Whether you're concerned about an area rug, carpet, tile and grout or wood floors, contact us for prompt and compassionate help. From our spot guide to residential and commercial area rug cleaning, you've got an ally in us as your neighborhood couch cleaner. 
Keep Residential & Commercial Sofas Looking Fresh & Clean with the Help of Your Expert Couch Cleaner Service
Serving Dublin, San Ramon, Pleasanton and the entire East Bay/Tri-Valley Region, including Alameda County, Livermore, Castro Valley, Danville, Lafayette, Walnut Creek, Pleasant Hill & Concord
---
Posted on August 18, 2023 | Published by Ignite Local | Related Local Business